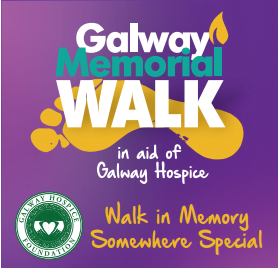 The 15th annual Galway Memorial Walk is to go 'virtual' this September.
Covid-19 means the Memorial Walk cannot take place as normal. Galway Hospice is instead asking families and friends to walk together somewhere special on Sunday 13th September.
The Hospice continues to care for patients during the Covid-19 crisis. Funds raised through the Galway Memorial Walk are needed now more than ever. The Memorial Walk is Galway Hospice's largest annual fundraising event and has raised over €2.1million for local hospice care.
Thousands of people take part in the Walk each year in memory of a family member, friend or colleague who has passed away. Many wear the name of their loved one on special personalised t-shirts.
This year, everyone is asked to do their own Memorial Walk, in the local community or in a place that holds special memories.
Anyone wishing to take part in this year's Memorial Walk must register in advance. Participants who would like a personalised t-shirt must register before Friday 21st August.
To celebrate the 15th annual Walk, each participant who registers for the Walk will also receive a sapling sponsored by McD's Home & Garden.
Register for the Galway Memorial Walk at www.galwayhospice.ie/walk or call 091-770868.