Why Volunteer at Galway Hospice?
From the beginning, our amazing volunteers have given their time, talents and care for all our patients – there are many roles including but not limited to our receptionists, drivers, hairdressers, dinner servers, flower arrangers – as well as those in the community raising much needed funds for Galway Hospice.
Volunteering can be a very rewarding experience.  Some of our volunteers have been with us for more than 30 years and we always welcome new volunteers of all ages and from all walks of life.  Our volunteers are part of the Galway Hospice family, and every single one has something unique to offer in time and talents.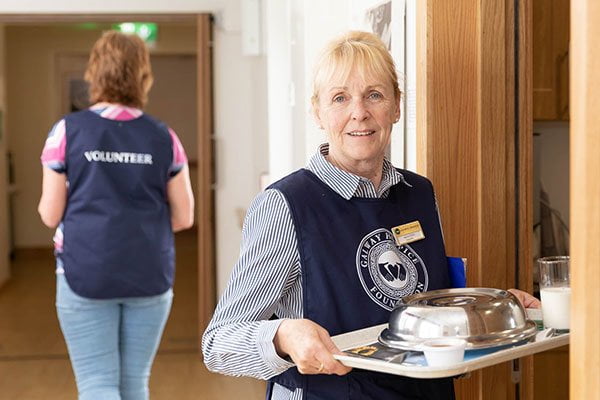 So, it's no exaggeration to say that Galway Hospice could not operate without our volunteers! Volunteering is a win-win: not only is it a great way of supporting hospice care, it is also a way to meet new people, make friends, put existing skills to use and perhaps learn new ones.
There are many reasons to get involved:
You may have a family member who has spent time in the Hospice and you want to contribute to the valuable work that we do.

 

You may have family or friends who volunteer and are looking for an organisation to be a part of.

 

You may be a young person looking for experience in fundraising or healthcare in order to find a longer-term job.

 

You may want to develop new skills or meet new people.

 

You may have spent time at Galway Hospice either as a visitor or a patient and want to be part of the friendly and warm care that we give all our patients.
Most of our roles ask you to give between two and four hours each week, but we can also welcome you on an ad-hoc basis. You'll need to be reliable and committed to helping us ensure we provide the best possible service to our patients. 
You can volunteer during the week or at weekends, either in the day or the evening. Our rotas are covered from 9am until 9pm, seven days a week, 365 days a year. 
If you can't make a regular commitment don't worry, we are grateful for any time you can give. Our busy calendar of fundraising events calls for volunteer support throughout the year at locations across Galway. 
If you'd like to get in touch, please call Pauline McDonagh, in Human Resources on 091 770868 or email pmcdonagh@galwayhospice.ie.