Our Operational Quality & Risk Report sets out how we deliver a high-quality service to patients and families, and the priorities for future service development.
It is an important way for Galway Hospice to demonstrate to our local communities the quality of our service and our commitment to continually improve what we do. Our Operational Quality & Risk Report has been ratified by the Board of Directors.
Galway Hospice's accreditation and affiliations are also evidence of our focus on quality for our patients, their families and our staff and volunteers. Our accreditation & affiliations include: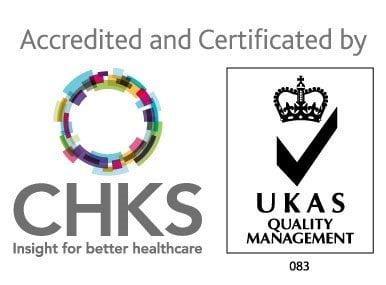 This is a quality improvement programme which covers all aspects of healthcare provision, including non-clinical services. We gained our first accreditation in 2010, and have continued with this every three year. The CHKS programme, combined with annual ISO 9001 certification, ensures that our standards of improvement are patient focused and clinically effective. Following our most recent CHKS survey in May 2022, we are proud to announce we have been reaccredited for a further three years.
ISO 9001: 2015 is an internationally recognised quality management system (QMS) standard. ISO 9001:2015 is a standardised framework for a quality management system, regardless of what the user organisation does, its size, or whether it is in the public or private sector.   Certification to ISO 9001:2015 provides externally verified assurance that an organisation has a proven systematic and consistent approach to the delivery of a quality management system.
As a dual-certified Centre of Excellence in the provision of palliative care services, Galway Hospice aims to continuously improve and develop its services, enhancing its role as the hub of palliative care services in the region and as a resource for best practice to all palliative care service providers both locally and nationally.
Galway Hospice is a member of Together for Hospice – The National Hospice Movement. Together for Hospice is a group of 26 independent Hospice and Specialist Palliative Home Care providers working together at the heart of local communities all across Ireland. Together for Hospice exists to support and enable these frontline services to fundraise collectively at a national level. Together for Hospice currently runs two National fundraising campaigns; Ireland's Biggest Coffee Morning for Hospice Together with Bewley's, and Hospice Sunflower Days. The ethos of Together for Hospice, is Every Euro Raised Locally, stays locally and is at the heart of everything we do.