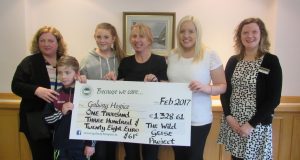 Many thanks to Martina Lynch and her family who recently raised €1,328.61 through 'The Wild Geese Project' for Galway Hospice.
The project was set up in memory of the late Kathleen Walsh RIP, who passed away under the care of Galway Hospice in 2005.
Pictured are members of Kathleen's family (l-r): Kathleen Walsh, Conor Linnane, Caoimhe Linnane, Martina Lynch, Katie Lynch, along with Orla Feeney of Galway Hospice.
Our thanks to Martina and family for supporting Galway Hospice in such a lovely way.  Also thanks to their many friends who supported the 'The Wild Geese Project' online fundraising page in aid of Galway Hospice.
'Flying across the ocean blue, oh how I longed to be with you, with your cups of tea and lovely rhubarb tart, God has you in His presence, I will always have you in my heart'
Martin Lynch