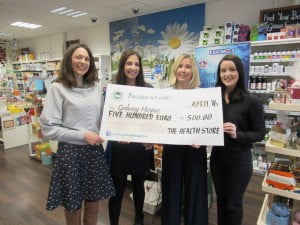 Recently, Galway Hospice was presented with a cheque for €500 by The Health Store in Briarhill. The Foundation received the funds when staff member, Donna Hennelly, chose the Foundation as her charity of choice. Donna recently received P.P.C.'s Pat Curran Memorial Award for excellence in the delivery of customer service.  As part of Donna's prize, P.P.C. donated €500 to a charity of Donna's choosing.
Sincere thanks to P.P.C., The Health Store and Donna Hennelly for enabling this donation to Galway Hospice. Pictured at the cheque presentation are (l-r): Susan Conaty (Proprietor of The Health Store), Donna Hennelly (The Health Store), Olive Donnellan (Managing Director of P.P.C.) and Joanne Tierney (Galway Hospice).
Every year, Galway Hospice must raise €1.8 million to ensure the provision of Hospice Home Care, Day Care and Bereavement Support services throughout Galway city and county.  Galway Hospice depends hugely on the people of Galway to reach this annual fundraising target.  We value and appreciate every donation we receive towards our services.