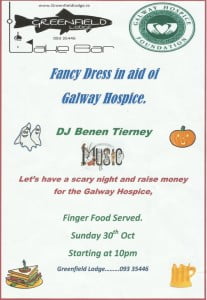 Greenfield Lodge in Headford will be the venue for a Halloween Fancy Dress Party on Sunday 30th October, with proceeds to Galway Hospice.
The night will shiver off at 10pm, with DJ Benen Tierney and there will also be "finger food served" on the night.  No, even though it's Halloween, it's not fingers that will be served, but food for eating with your fingers …. just to be clear!
So, if you're up for a scary night, this is the place to be ….  while also supporting Galway Hospice.
For more information, please contact the Greenfield Lodge on 093 35446.
Everybody welcome!