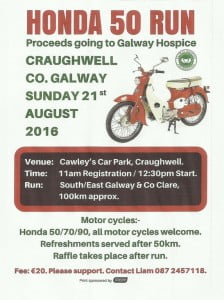 A 'Honda 50 Run' will be taking place this coming Sunday, 21st August, with proceeds to Galway Hospice.
The run starts from Cawley's Pub car park, Craughwell, Co Galway at 12.30pm, with registration taking place from 11am. The run is approximately 100 kilometres in distance and will take place throughout South/East Galway and County Clare. Refreshments will be served at the half-way stage – 50 kilometres.
And it's not restricted to Honda 50's!! Honda 70's, 90's and all classes of motorbikes are also welcome.
Entry fee costs €20 and all proceeds raised will be donated to Galway Hospice.
For more information or to register, contact Liam on 087 245 7118.