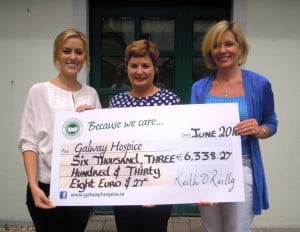 Many thanks to Sarah Gaffney and Yvonne O'Reilly who recently presented Mary Tierney of Galway Hospice with the proceeds raised through their annual St. Stephen's Night Ball in memory of the late Keith O'Reilly RIP.
Pictured at the cheque presentation were (l-r): Sarah Gaffney, Mary Tierney (Galway Hospice) and Keith's mother, Yvonne O'Reilly.
Many thanks to Sarah, Yvonne and Keith's family and friends for their support of Galway Hospice through this Ball each year. Keith's family and friends have been great supporters of Galway Hospice for many years now and we appreciate the time and effort they put into organising this Ball each year in support of Galway Hospice and in memory of Keith.