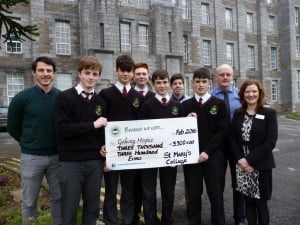 Many thanks to the staff and students of St Mary's College, Galway, who recently presented a cheque for €3,300 to Orla Feeney of Galway Hospice.
The students raised these funds through their annual Charity Drive for Galway Hospice.
Pictured with the cheque are (l-r): Teacher Seán Armstrong, Ciaran Croke, Josh Pyne, Matthew Mooney, Diarmuid Mulkerrins, Daniel Healy, teacher Darragh Kerrigan, School Principal Ciarán Murphy, and last but not least Orla Feeney of Galway Hospice.
Well done and thank you to all concerned!