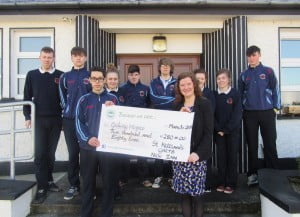 Many thanks to the teachers and LCVP students of St Killian's GRETB, New Inn for their recent donation of €280 to Galway Hospice.
The students raised these proceeds by organising a Movie Day for Galway Hospice at their school.
Pictured is Dylan Benadie presenting the cheque to Orla Feeney of Galway Hospice. In the background are (l-r): Keith Hardiman, Shane Noone, Hannah Curley, Hayden Grehan, Jamie Ray, Elisha O'Reilly, Ciara Lennon and David Malone.
Well done and many thanks to the students for organising their Movie Day for Galway Hospice. Events like this are so important to Galway Hospice in terms of sustainable fundraising and we appreciate so much the effort and time these students put into organising this event for Galway Hospice. Well done and thank you to the students and their teacher Mr Conroy.