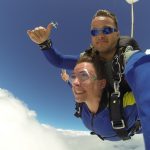 Want to see the world from 10,000 feet up? Take on a new challenge for Galway Hospice and sign up for a charity skydive today!
Charity skydives are organised by a number of providers. For more information and details on signing up for a charity skydive, contact:
Irish Parachute Club at Clonbullogue Airfield, Co. Offaly or
Irish Skydive Club at Kilkenny Airport, Kilkenny
For more details, contact Galway Hospice on fundraising@galwayhospice.ie or 091-770868.