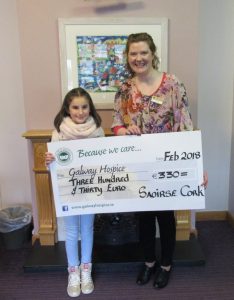 10 year old Saoirse recently cut her long hair and donated her beautiful hair to The Rapunzel Foundation – (a charitable organisation that works to improve the lives of those living with hair loss, by making much needed wigs). Along with donating her hair to The Rapunzel Foundation, Saoirse also raised much needed funds for Galway Hospice and recently came in to Galway Hospice to present Orla Feeney of Galway Hospice with a cheque for €330.
A huge thank you to Saoirse for her generous and very brave decision to cut her long hair and raise funds for Galway Hospice.
Saoirse's donation will help Galway Hospice continue to offer our services free of charge to the people of Galway and continue to 'be there' for the people of Galway into the future. Without support like Saoirse's, we wouldn't be able to continue to do what we do, so thank you so much!
During Saoirse's recent visit to Galway Hospice, she told us that, although she loves her new hair style, she still plans to grow her hair a little longer again so she can create more hairstyles with it! We have no doubt that she will have no trouble growing it again! Good luck to Saoirse! And thank you so much!