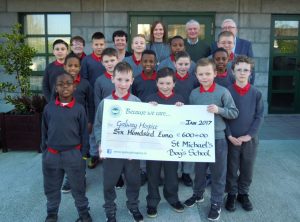 Many thanks to those at St. Michael's Boys' School, Mervue, who recently raised a superb total of €600 for Galway Hospice.  Parents, teachers, students and associates got involved in collecting and painting jars and selling them to raise funds for Galway Hospice.
Well done to everyone who put so much time and effort into this fundraising initiative for Galway Hospice.
Thanks to Principal Brendan O'Dwyer and to the school representatives who recently visited the Hospice in Renmore to present the proceeds they raised to Galway Hospice.
This donation will help us to continue providing our fully-accredited specialist palliative care services to adults and children with cancer and other life-limiting illnesses throughout Galway city and county, and on the adjoining islands, as well as providing support to their families and carers.  These services include Home Care, Inpatient Care, Day Care, Bereavement Support and Education.
Well done and thank you to everyone involved.