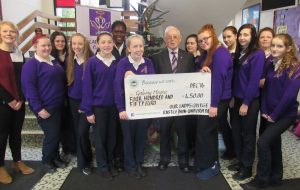 Galway Hospice was recently presented with a cheque for €450 by students of Our Lady's College, Galway.  The funds were raised through a raffle and non-uniform day. Gerry Molloy, representing Galway Hospice, was delighted to meet with some of the students on the day of the presentation and hear about their fundraising endeavours in aid of the Foundation.
Our Lady's College is a brand new amalgamated second level educational facility, bringing together the former Mercy and Presentation Secondary Schools into an exciting new campus.
Pictured (l-r) are: Ms. Jenny Lowry (teacher), Chelsea Mangan, Jennifer Conroy, Kayla Mullins, Shauna Fitzgerald, Glory Osib, Aoife Boyle, Gerry Molloy (Galway Hospice), Jessica MacDonagh, Michaela Doherty, Raminta Robokaite, Natalie Waclawska, Shauna Curran and Rebecca Moore.
Thank you and well done to everyone at Our Lady's College for your time and support.  Special thanks to the teaching staff for facilitating the fundraiser.
Every year, Galway Hospice must raise €1.8 million to ensure the provision of Hospice Home Care, Day Care and Bereavement Support services throughout Galway city and county.  Galway Hospice depends hugely on fundraising events like this one to reach this annual fundraising target.  Thank you for your continued support.