Recently, Galway Hospice was presented with a cheque for €7,555, which was 50% of the proceeds raised through the Murie Henry Memorial Cup Golf Event. The other 50% of the funds raised was donated to Cancer Care West.
This special fundraising event was organised by Murie's loved ones and took place on 21st May 2016 at Doohoma Golf Club. It consisted of a Singles Stableford Open Golf Competition, followed by an auction and music night at Trá Buí, Holmes' Doohoma.
Pictured at the cheque presentation at Galway Hospice are: (l-r) Pat Hayes, Joanne Tierney (Galway Hospice), Mary Henry Kirwan, Noel Coyle and Michael Holmes.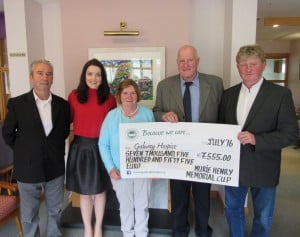 Well done to everyone who planned, organised and co-ordinated this event, as well as to everyone who participated in and supported the event on the day.
Every year, Galway Hospice must raise €1.8 million to ensure the provision of Hospice Home Care, Day Care and Bereavement Support services throughout Galway city and county.  Galway Hospice depends hugely on fundraising events like this one to reach this annual fundraising target.  We are very grateful for this ongoing support.