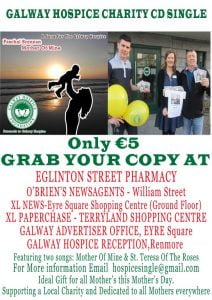 Chris Sherlock and Paschal Brennan recently launched their CD 'Mother of Mine – A Song for the Galway Hospice' alongside Orla Feeney of Galway Hospice, at Galway Hospice, Renmore.  The CD is now on sale, with proceeds raised going to Galway Hospice.
This beautiful CD includes two cover tracks: Mother of Mine and St. Theresa of the Roses, which are sung by the legendary Paschal Brennan.
For more information on Paschal, visit his website (www.paschalbrennan.com)
At a cost of only €5, the CD is a perfect Mothers' Day gift. The CD is dedicated to Mothers everywhere, and is in loving memory of the late Teresa Sherlock.
Currently for sale at Galway Hospice reception, the CD is also available in:
Eglington Street Pharmacy
XL Newsagents (Eyre Square Shopping Centre)
XL Paperchase (Terryland)
O'Briens Newsagents (William Street)
XL Laurel Stores (Newcastle)
Scoil Bhride National School (Shantalla)
This beautiful CD was specially recorded to raise funds for Galway Hospice.  All proceeds from the sale of the CD will go towards helping Galway Hospice to continue providing fully-accredited specialist palliative care services to adults and children with cancer and other life-limiting illnesses throughout Galway city and county and on the adjoining islands. These services include Home Care, Inpatient Care, Day Care, Bereavement Support and Education.
The Tracks are also available to download on iTunes, GOOGLE PLAY and are available to listen on Spotify.
"I've seen the work our local hospice does and it's remarkable!   It's true when they say that "Every Moment Matters".  The care the hospice gave my mother Teresa was brilliant.  She had a rare form of fatal cancer.  All the staff made sure she got the everyday necessities along with much-needed treatment during her time there, and even after she died, the hospice gave my family and I the support we needed too. Producing this CD is just to say thanks to Galway Hospice for all their hard work, and hoping it continues to raise the much-needed funds to do what they do best".
    –    Chris Sherlock (Son of the Late Teresa Sherlock)