Mark Moran recently visited Galway Hospice to present the proceeds raised through his fundraising initiative, 'Two Marathons, Two Continents, One Week, One Charity' in aid of Galway Hospice. On Sunday, 31st October 2016 Mark took part in the Dublin City Marathon and one week later, on Sunday 6th November, he ran the New York City Marathon. Mark fully funded both trips himself in order to ensure that 100% of the proceeds went directly to Galway Hospice.  Funds were raised for the Foundation through a raffle, with raffle prizes generously provided by local businesses.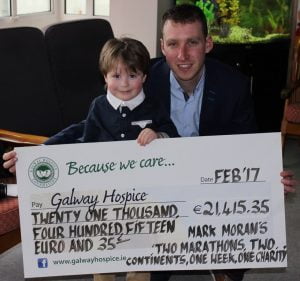 Mark has a special connection with Galway Hospice. When he was 13 years old his mother Teresa Moran passed away under the care of the Galway Hospice Home Care team.  2016 was the 20th anniversary of Teresa's passing and Mark wanted to mark the anniversary by doing something special in her memory.
Pictured in the first photograph are (back row, l-r): Martin Moran, Mark Moran, Joanne Tierney (Galway Hospice), Tom Moran, Aaron Kelly and Brendan Kelly. (Front row, l-r): Ann Moran, Bernie Moran, Marian Fahy, Mary 'Granny' Moran, Sonya Kelly, Sorsha Moran and Nene Ward.
Pictured in the second photograph is Mark and his nephew and godson Aaron, one of Mark's biggest yet smallest supporters!
Sincere thanks to Mark, his family and friends for working tirelessly to raise funds for Galway Hospice.  A special thank-you to Mary 'Granny' Moran for coordinating the allocation of raffle tickets. Thank you to everyone who sponsored a raffle prize, who volunteered in any capacity in support of Mark's fundraising efforts, as well as to everyone who bought raffle tickets. Your support is greatly appreciated. Mark has chosen to allocate the monies raised to the Galway Hospice Home Care service.
Every year, Galway Hospice must raise €1.8 million to maintain current levels of Hospice Home Care, Day Care and Bereavement Support services throughout Galway city and county. Galway Hospice depends hugely on people like Mark to reach this annual fundraising target.  Thanks Mark, and well done!