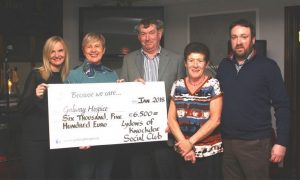 Lydon's Knockdoe Social Club recently held a social night in Lydon's with proceeds to Galway Hospice.
The night raised a fantastic total of €6,500 for Galway Hospice, which will help us continue providing our fully-accredited specialist palliative care services to adults and children with cancer and other life-limiting illnesses.
Pictured presenting the proceeds to Colette Dodd of Galway Hospice (second from left) were Lydon's Knockdoe Social Club Committee – Cindy Crowe (Secretary), Michael McDonagh (Chairperson), Martina Lydon (Ass. Treasurer) and Niall Canavan (Treasurer).
A sincere thank you to everyone for making this night such a huge success and for choosing Galway Hospice to benefit from the proceeds raised.