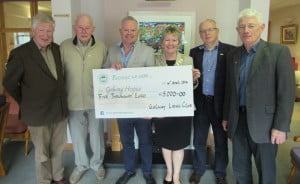 Many thanks to the Galway Lions Club who recently donated €5,000 to Galway Hospice.
Pictured are (l-r): Michael Murray, Brendan Guerin, Michael Craig (Galway Hospice), Geraldine Mannion (Galway Lions Club President), Tom Joyce and Pat Connolly (Past District Governor).
Many thanks to Galway Lions Club members for this very generous donation. This donation will help us to continue providing our fully-accredited specialist palliative care services to adults and children with cancer and other life-limiting illnesses throughout Galway city and county, and on the adjoining islands, as well as providing support to their families and carers. Thank you.