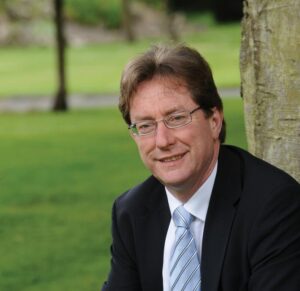 The Board of Galway Hospice Foundation is pleased to announce the appointment of a new Chairman, Dr Jim Browne.
Dr Browne is Chairman of the Board of Children's Health Ireland and brings with him a wide variety of experience from the health, engineering, education, and voluntary sectors in Ireland and abroad.  Dr Browne is also a Director of the Irish Academy of Engineering and is Emeritus Professor of Production Engineering at the University of Galway.
Dr Browne served as President of the University of Galway for 10 years and prior to that as Registrar and Deputy President. He was also a member of the Board of the very successful Galway University Foundation.
Reacting to his appointment, Jim said: "I am greatly honoured to be appointed to the role of Chair of the Galway Hospice Foundation. Galway Hospice Foundation makes a major contribution to the community: it supports patients with advanced diseases needing palliative care to attain the best quality of life possible. It advocates, raises significant charitable funds and, with financial support from the HSE, provides essential services in our community, including inpatient care and community palliative care. It is my privilege to work with the Board and the executive team to continue this important work and to build on the tremendous achievements of Galway Hospice to date in the interests of patients."
Jim takes over from outgoing Chairman, Keith Finnegan who held the role as Chairman for over 4 years. Keith will remain as a board member at Galway Hospice and the Board and the Executive team would like to take this opportunity to thank Keith for his dedication and commitment to Galway Hospice during his time as Chairman.
The role of Chairperson is supported by a voluntary Board of Directors and Executive Team, led by CEO, Mary Nash. Under strong leadership, the charity looks forward to implementing its new strategy, delivering the best hospice care to the community it has proudly served for more than 30 years.