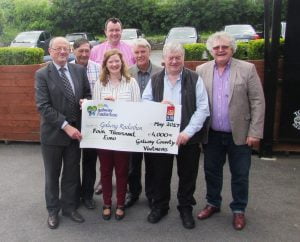 Many thanks to the members of the Galway County Vintners who raised a total of €4,000 for Galway Radiothon!
The Galway Radiothon took place on Friday 7th and Saturday 8th April and the Galway County Vintners supported it by organising bucket collections and Sweepstakes, in conjunction with the Grand National, during that weekend.
The majority of pubs throughout Galway city and county came on board to support this fundraising initiative which in total raised €4,000 for Galway Radiothon.
Pictured at the cheque presentation were (l-r): Padraig McGann, Pat Gilmore, Peadar Tonery, Terry Tyson, Patrick Salmon and Tom McDonagh, presenting the proceeds to Orla Feeney (Galway Hospice, and representing Galway Radiothon).
All proceeds raised through the Galway Radiothon are divided equally between Galway Hospice and Cancer Care West, to help each charity continue to provide their much sought-after services.