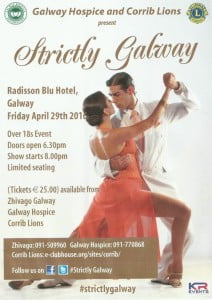 Strictly Galway will be taking place on Friday 29th April in the Radisson Blu Hotel, Galway, with all proceeds raised from the event going to Galway Hospice and Corrib Lions Club.
The contestants are already undertaking training each week in preparation for the event night and tickets are now on sale.
Tickets cost €25 and are available from Galway Hospice, Corrib Lions Club and Zhivago, Galway.
Doors open on the night at 6.30pm and the show starts at 8pm.
For more information, contact Galway Hospice on 091 770868.
This promises to be a fantastic night out!  So get your ticket, come along and enjoy some spectacular dancing, and who knows – you might even know some of the guest dancers.  And you might even consider giving it a shot yourself next time round.  And what's more – the two charities involved will be 'delira and excira' to see you there!