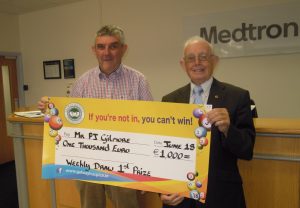 Congratulations to PJ Gilmore from Medtronic, who recently won first prize in our weekly draw. Pictured is PJ receiving his winning cheque from Gerry Molloy of Galway Hospice.
Thank you to everyone who supports our weekly draw each week. By supporting our weekly draw, you are helping Galway Hospice to continue providing our specialist palliative care services to adults and children with cancer and other life-limiting illnesses throughout Galway city and county, and on the adjoining islands.
If you would like to join our weekly draw, please contact us on 091 770868 or email us at fundraising@galwayhospice.ie
Alternatively, if you would like to become a draw promoter, please contact us for more information. We would love to hear from you!
Congratulations again PJ and enjoy your winnings!