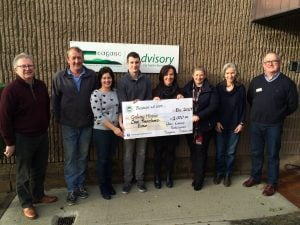 Well done and thank you to everyone in Teagasc Ballinalsoe for raising €1,000 for Galway Hospice. These proceeds were raised via donations from famers attending GLAS courses in Teagasc Ballinasloe during Autumn 2017.
Pictured at the cheque presentation are (l-r): Joe Curtin (Teagasc), John Salmon, Sinéad Devaney (Teagasc), Kevin Madden (FRS), Barbara Kenny (Teagasc), Mary Rock, Bernie Leahy (Teagasc) and Padraig Walsh (Galway Hospice).
Thank you to the staff and management of Teagasc for choosing Galway Hospice to benefit from these proceeds raised, and also thank you to the farmers who attended the GLAS course and generously made donations in aid of Galway Hospice.
This donation will help Galway Hospice to continue providing our fully-accredited specialist palliative care services to adults and children with cancer and other life-limiting illnesses throughout Galway city and county, and on the adjoining islands, as well as providing support to their families and carers.  Thank you to all concerned.