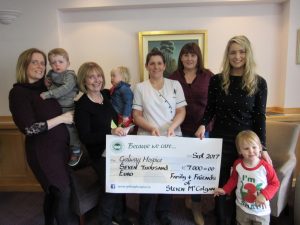 Many thanks to the family and friends of the late Steven McColgan, who recently presented a cheque for €7,000 to Galway Hospice. Steven's friends and loved ones raised these proceeds in his memory.  The funds will be used to purchase a much-needed item from Galway Hospice's wish list, for our patients.
Pictured are (l-r): Steven's sister Gemma Maher and her son Finn, Steven's mum Mary with Steven's son Eoin, Caroline McCadden (Galway Hospice), Steven's wife Niamh, Steven's sister Eilish McLaughlin and Steven's other son Shay.
Many thanks to everyone who supported this fundraising in memory of Steven, and in support of Galway Hospice.  The purchase of needed equipment from our patient care wish-list will help us in providing our fully-accredited specialist palliative care services to adults and children with cancer and other life-limiting illnesses throughout Galway city and county, and on the adjoining islands, as well as providing support to their families and carers.