Take on the 10th Annual Croagh Patrick Climb for Galway Hospice, from home!
Due to Covid-19 restrictions, this year's Climb on 20th June has unfortunately been cancelled. But you can still Climb for Hospice from your own back garden!
Croagh Patrick is just under 800 metres high. For our Virtual Challenge, we have created four exercises that can help you get to the top:
Lunges – 20 Lunges equals 20 Metres. Do 800 Lunges to reach 800 Metres!
Squats – 20 Squats equals 20 Metres. Do 800 Squats to reach 800 Metres!
Climbing Stairs (Up & Down) – 5 Times Up & Down equals 20 Metres. Do it 200 Times to reach 800 Metres!
Walk or Run – 2km equals 20 Metres. Do 80km to reach 800 Metres!
Choose a mix of these exercises or the same one to make up your 800 metres and climb to the top of Croagh Patrick from home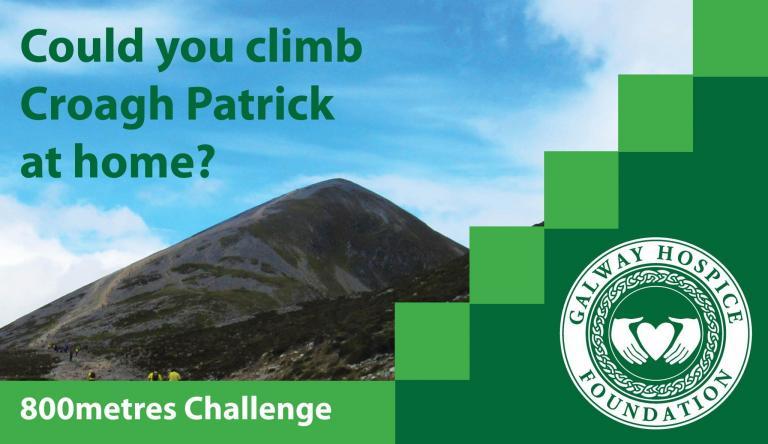 Watch Joe Connolly, Padraic Joyce, Sarah Dervan & Jack Carty demonstrating the exercises:
Climbers are encouraged to set up an online fundraising page through Facebook Fundraisers, iDonate or Everyday Hero.
All funds raised go to supporting Galway Hospice services for patients and their family at this difficult time.
COMMEMORATIVE T-SHIRT
Everyone who takes part in the Virtual Croagh Patrick Climb will receive a free Commemorative T-Shirt, which you can also wear if you choose to climb the real Croagh Patrick when Covid-19 restrictions are lifted.
Corporate sponsors interested in featuring on the event t-shirt can contact Shane on 087-2220807.
REGISTER FOR VIRTUAL CROAGH PATRICK CLIMB
Complete the registration form below or contact Galway Hospice Fundraising on 091-770868 or fundraising@galwayhospice.ie