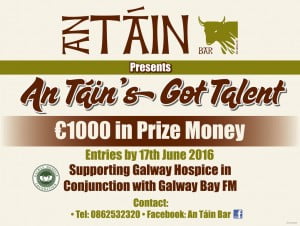 An Táin Bar in Ballinasloe will be the venue for a talent competition which will take place during the months of June and July. All proceeds raised from the event will be donated to Galway Hospice. Entries cost €20 and performers must have entered by the 17th June. From there, a series of heats will take place in An Táin, with the final night taking place in July.
There will be a prize money of €1,000 up for grabs, so come along and show your talent, and help raise funds for Galway Hospice.
For more information, or to register, contact Tom on 086 2532320 or via An Táin Bar.