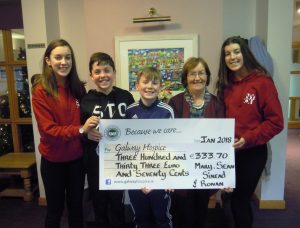 Well done and many thanks to the Duggan family from Claregalway who recently presented Theresa Lawless of Galway Hospice with a cheque for €333.70. Sinead, Séan, Ronan and Mary raised these proceeds through their annual 'Hunting the Wren' tradition on St Stephen's Day.
The Duggans have been supporting Galway Hospice through this tradition since 2012 and to date, have raised €1,764.29 for Galway Hospice.
Pictured is (l-r): Sinéad, Séan, Ronan, Theresa Lawless (Galway Hospice) and Mary Duggan and below is their first cheque presentation for Galway Hospice in 2013, when they were a little younger!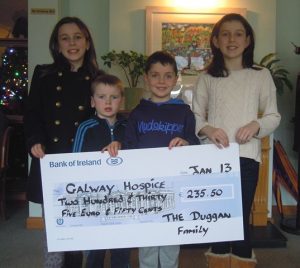 Well done and thank you to the Duggans for their continuous support of Galway Hospice. This donation will help contribute towards the €1.8 million required to provide Hospice Home Care and Day Care services to the people of Galway City and County when they need them.
Demand for our services, particularly for our homecare services, has continued to increase and we continue to need to raise €5,000 a day to fund these essential services. Thank you sincerely to Sinéad, Séan, Ronan and Mary for braving the elements each year to support Galway Hospice.