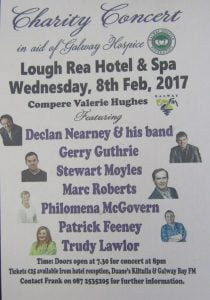 'Duane's Charity Concert' in aid of Galway Hospice will take place on Wednesday 8th February in Lough Rea Hotel & Spa. The evening will be compered by Galway Bay Fm's Valerie Hughes and will feature the following performers:
Declan Nearney and his band
Gerry Guthrie
Stewart Moyles
Marc Roberts
Philomena McGovern
Patrick Feeney
Trudy Lawlor
Doors will open at 7.30 pm and the concert will begin at 8 pm. Tickets cost €25 each and are available for purchase from the hotel reception desk, Duane's Kiltulla and Galway Bay Fm. For further information, please contact Frank on 087 2535205. Proceeds raised through this event will be donated to Galway Hospice. Thanks to everyone at Duane's for their continued support. The evening promises to be one of great enjoyment and laughter. We hope to see you there!
Every year, Galway Hospice must raise €1.8 million to maintain current levels of Hospice Home Care, Day Care and Bereavement Support services throughout Galway city and county. Galway Hospice depends hugely on fundraising events like this one to reach this annual fundraising target. Your support for this event would be greatly appreciated.