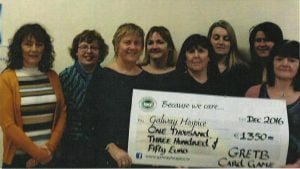 Many thanks to the ladies in the 'Personal Effectiveness' class in GRETB Loughrea for recently presenting Galway Hospice with a cheque for €1,350. The class raised these proceeds through a card game that took place in the Arch Bar, Loughrea on the 30th November 2016.
Pictured at the cheque presentation were (l-r): Ann Breheny, Freda Murphy, Colette Dodd (Galway Hospice), Mary Geoghegan, Maureen Regan, Venita McTigue Fahey, Pauline Dillon and Helen Moloney.
Many thanks to these fantastic ladies for putting so much time and effort into organising this very successful event for Galway Hospice. The monies raised will help us to continue providing our fully-accredited specialist palliative care services to adults and children with cancer and other life-limiting illnesses throughout Galway city and county, and on the adjoining islands, as well as providing support to their families and carers. Well done!  Thanks also to everyone who supported this event.