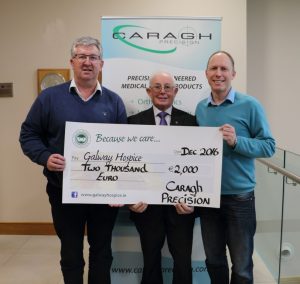 Many thanks to the staff and management of Caragh Precision who recently raised a fantastic total of €2,000 for Galway Hospice.  The crew raised these proceeds through their Jersey Day and Raffle in aid of Galway Hospice.
Pictured with the proceeds raised are (l-r): Edward Kenny (Caragh Precision Managing Director), Gerry Molloy (Galway Hospice) and Peter McDonnell (Human Resources – Caragh Precision).
Well done to everyone in Caragh Precision for organising this fundraiser for Galway Hospice, and thanks to everyone who supported it.