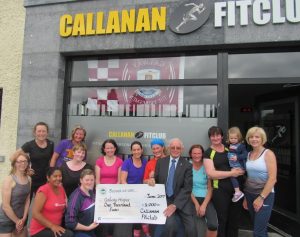 Well done and thanks to members of Callanan Fitclub in Kinvara, who raised a fantastic €1,000 for Galway Hospice. Members of the Saturday morning Bootcamp class raised this money through a fitness challenge, and kindly chose Galway Hospice to benefit from their fundraising initiative.
Pictured are members of the 9.30am class presenting the cheque to Gerry Molloy of Galway Hospice.
This donation will help Galway Hospice to continue providing our fully-accredited specialist palliative care services to adults and children with cancer and other life-limiting illnesses throughout Galway city and county, and on the adjoining islands, as well as providing support to their families and carers. These services include Home Care (365 days per year), Inpatient Care (18 beds), Day Care (3 days per week), Bereavement Support (for as long as it is needed) and Education.