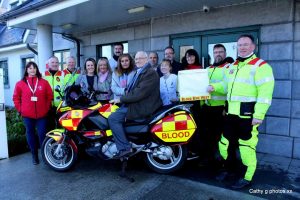 Recently, Blood Bike West acquired a new bike to support its service of delivering essential blood and urgent medical supplies, out of hours, between hospitals and healthcare sites. Those who make up the voluntary organisation decided that the new bike would be named Margaret, after the late great Margaret Bermingham.
The launch of the bike took place at Galway Hospice, with Margaret's husband John and their family attending. Pictured left to right are: Aisling Griffin, Sean Monahan (Blood Bike West), Ronan Kane (Blood Bike West), Patricia McKenna, Pauline Bermingham, David Greatly, Ciara Bermingham, John Bermingham, Simon Scott (Galway Hospice), Margaret Egan (Galway Hospice), Matthew Bermingham, Kerrieann Faherty (Blood Bike West), Garry Kelly (Blood Bike West) and Dermot Carey (Blood Bike West). The group gathered afterwards in the Hospice to share stories and recall fond memories of the lovely Margaret.
Warm thanks to everyone at Blood Bike West for their continued support of Galway Hospice. Thank you also to John Bermingham and family for agreeing to the bike being called after their beloved Margaret, and for being part of the special occasion.