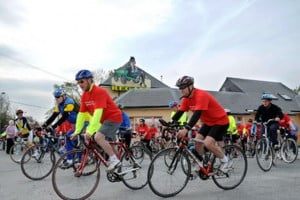 It's that time of year again!  Now in its 29th year, the Annaghdown Sponsored Cycle will take place on Saturday 23rd and Sunday 24th April 2016.
This year the cyclists will be heading to Ennistymon and will push-off from Regan's of Clonboo on Saturday morning, 23rd April.
The cyclists will stay overnight in the Falls Hotel in Ennistymon and the next morning, fresh as daisies after a good night's sleep, they will cycle back to Regan's of Clonboo, arriving at approximately 5 pm.
All proceeds raised through this sponsored cycle will be donated to Galway Hospice. All support for the riders and accompanying crew would be much appreciated.  Anyone interested in taking part in this year's cycle or supporting the event is invited to contact the Galway Hospice Fundraising Department on 091 770868.
Huge thanks to the organisers of this event who continue each year to donate the proceeds to Galway Hospice. Events like this are extremely important to Galway Hospice in terms of sustainable fundraising. We greatly appreciate the enthusiasm and loyalty of groups like the Annaghdown Cyclists who put so much time and effort into organising events, just to raise funds for Galway Hospice. This funding will go entirely towards the provision of Home Care and Day Care services at Galway Hospice, services that depend hugely on voluntary donations. Thank you to all concerned.