The 'lighting up' of the Galway Memorial Tree took place last Sunday at Galway Hospice. The tree lights were switched on by special guest, Dáithí Ó Sé. Other special guests in attendance were Pearce Flannery (Mayor of Galway city, Cllr.), Cllr. Eileen Mannion (Cathaoirleach of the County of Galway), Dr. Richard Joyce (Chairman of the Board of Directors at Galway Hospice); Niamh Elwood (2017 Galway Rose); Dominic McGorian – one of Ireland's leading Tenors – members of the Connacht Rugby team and the Kiltullagh Community Choir who, along with Dominic McGorian, provided the beautiful music on the evening.
Warm thanks to all of our special guests who supported this special launch ceremony. Special thanks to everyone who attended the ceremony – you're continued support is greatly appreciated.
The Galway Memorial Tree shines bright at Galway Hospice, adorned with thousands of lights, illuminating thousands of memories and brightening the Winter skies.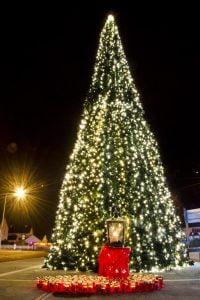 To sponsor a light on the tree in memory of your loved one, contact Galway Hospice on 091 770868 or visit our website at www.galwayhospice.ie Your tributes can also be added to our online 'Book of Treasured Memories', available for viewing at www.galwayhospice.ie