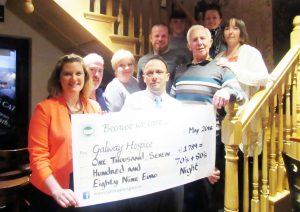 A huge thank you to Michael John Francis and family, who recently organised a 70's and 80's Music Night in The Porter House in Oranmore, with proceeds to Galway Hospice. The night was held in memory of Michael John's late mother Susan, who available of hospice services.
Pictured at the recent cheque presentation in Maggie May's Bar and Restaurant in Loughrea, where Susan once worked, were (l-r): Orla Feeney (Galway Hospice), Justin Comer (Maggie May's), Elizabeth Fallon, Michael John Francis, Ian Pompherett, Adam Pompherett, Walter Francis, Marguerite Pompherett and Fionnuala Headley.
Thank you to Michael John, Walter and family for organising such a lovely night in memory of Susan RIP, and for choosing Galway Hospice to benefit from the proceeds raised from the night. Thank you also to everyone who supported the event.
This donation will help us to continue providing our fully-accredited specialist palliative care services to adults and children with cancer and other life-limiting illnesses throughout Galway city and county, and on the adjoining islands, as well as providing support to their families and carers. Thank you to all concerned!