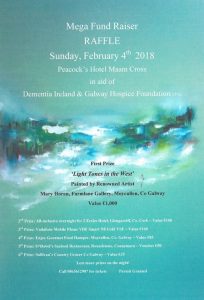 A Mega Fundraising Raffle will be taking place in Peacock's Hotel, Maam Cross on the 4th February with 25% of the proceeds raised being donated to Galway Hospice and 75% to Dementia Ireland.
Prizes include a painting by renowned artist, Mary Horan to the value of €1,000, an All-Inclusive overnight stay for 2 in the Eccles Hotel in Cork, a Vodafone VDF Smart Mobile Phone, a Gourmet Food Hamper, plus lots more.
Tickets cost €5 each and are currently on sale in the locality.
Please support this fantastic raffle in aid of Galway Hospice and Dementia Ireland.
For more information, contact 086 3612907.