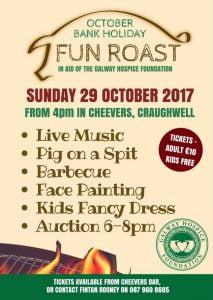 A 'Fun Roast' will be taking place on Sunday 29th October (Bank Holiday Weekend) with proceeds to Galway Hospice.
The event will take place in Cheevers Bar in Craughwell, kicking off at 4pm, with live music, pig on a spit and a barbecue. There will also be face painting, a kids fancy dress and an auction from 6 to 8pm.
Tickets cost €10 per adult, while kids go free. Tickets are now on sale and are available from Cheevers Bar or by contacting Fintan Rooney on 087 960 8685.
All proceeds will be donated to Galway Hospice so please support.