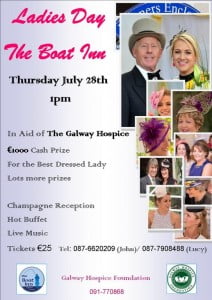 Ladies – it's time to get your Dresses and Hats ready for the annual Ladies Day at The Boat Inn, Oughterard – which falls this year on Thursday next, 28th July, and it's in aid of Galway Hospice! The event will get under starter's orders at 1pm with a champagne reception and there will be prizes for Best Dressed Lady and hat.  And don't worry about hunger pangs setting in – there will be a hot buffet later in the day.
This year, the winner of 'Best Dressed Lady' will receive €1,000 in cash, plus a Helicopter ride over Oughterard, landing at Ashford Castle for Afternoon Tea for two!
This year's judging panel includes Emma Eliza Regan (Irish actress), Davitt Walsh (the brave young man who rescued baby Rioghnach-Ann in Buncranna, Co. Donegal), Carol McVey (Boutique Specialist) and Irial O'Ceallaigh (TG4 weather presenter).
Also present on the day will be Sharon Murphy from The Voice, who will be performing a few tunes.
Tickets cost €25 and are available from The Boat Inn, or by phoning Lucy (087) 790 8488 or John (087) 662 0209. All proceeds raised will be donated to Galway Hospice.   All support will be appreciated!