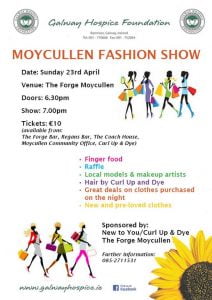 The Forge in Moycullen will be the venue for a very exciting Fashion Show taking place on Sunday 23rd April. Doors open at 6.30pm and the night kicks off at 7pm.
Tickets are available from The Forge Bar, Regans Bar, The Coach House, Moycullen Community Office and Curl Up & Dye.
This promises to be a fantastic night out, where attendees will have the opportunity to view the latest fashion and trends and pick up some great style tips. There will also be finger food on the night and a raffle with great prizes.
Furthermore, local model's and makeup artists will be in attendance, along with representatives from Curl Up & Dye, to demonstrate hair styles and tips on hair care.
New and pre-loved clothes will also be on sale on the night, with great deals on items purchased on the night.
For more information, contact 085 2711531 or if you can sponsor a prize for the night or support in any other way, please call.
All proceeds raised from the night will be donated to Galway Hospice.