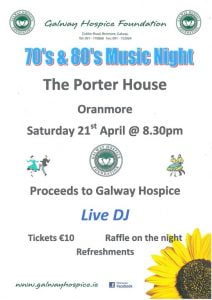 The Porter House in Oranmore will be the venue for a 70's & 80's Music Night on Saturday 21st April, with proceeds raised being donated to Galway Hospice.
Kicking off at 8.30pm the night will include live music, refreshments and a raffle with fantastic prizes.
Tickets are now on sale throughout the locality at €10, so please come along and enjoy a great night out, while also supporting Galway Hospice.