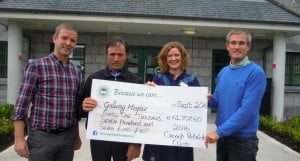 Many thanks to everyone who took part in the 2016 Croagh Patrick Climb in aid of Galway Hospice. The climb, which took place in June, was again a huge success, with hundreds of participants taking part again this year for Galway Hospice. This year's climb raised a fantastic total of €41,707.60, bringing the total amount raised by this annual event since 2012 to a whopping €217,268.69 for Galway Hospice.
Well done and thanks so much to the event organisers Shane McDonagh and Niall O'Callaghan, who take on this amazing challenge each year to support Galway Hospice. Their continuous support has helped Galway Hospice to continue providing our fully-accredited specialist palliative care services to adults and children with cancer and other life-limiting illnesses throughout Galway city and county, and on the adjoining islands, as well as providing support to their families and carers.
Our sincere thanks also to the many participants who took part in this year's climb and who have done so in the past for Galway Hospice. Without the many people who come along on the day and take part in the climb, the climb would not be such a huge success.  So thank you all so much.
Pictured at the recent cheque presentation at Galway Hospice are (l-r): Shane McDonagh, Michael Uniacke, Orla Feeney (Galway Hospice) and Niall O'Callaghan.
Well done and huge thanks to all concerned.