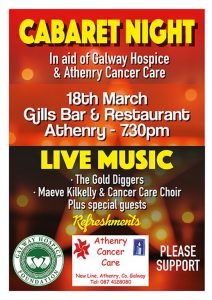 A Cabaret Night will be taking place on Sunday 18th March in Gills Bar & Restaurant in Athenry, with donations on the night to Galway Hospice and Athenry Cancer Care.
The night will kick off at 7.30pm in Gill's, with live music by The Gold Diggers, Maeve Kilkelly & Cancer Care Choir, plus special guests.
Refreshments will also be served on the night.
This promises to be a great night out on St Patricks weekend, so come along and enjoy a great atmosphere, while also supporting two deserving charities.
Your support will help Galway Hospice continue to provide our fully-accredited specialist palliative care services to adults and children with cancer and other life-limiting illnesses throughout Galway city and county, and on the adjoining islands, as well as providing support to their families and carers.
Please support.