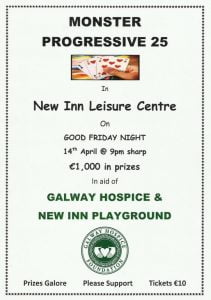 A Monster Progressive 25 Card Game will be taking place in New Inn Leisure Centre this Friday –  Good Friday – 14th April, with proceeds raised being donated to Galway Hospice and New Inn Playground.
Kicking off at 9pm sharp, this promises to be a great night, with €1,000 to be given away in prizes, with other prizes galore.
Tickets cost €10 and are available for purchase in the locality or at the door on the night.
For more information, contact Galway Hospice on 091 770868.
Your support would be appreciated.