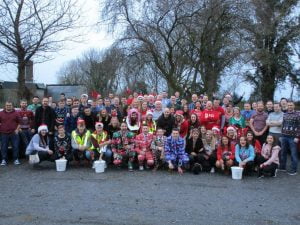 In December, a group of friends decided that their Twelve Pubs of Christmas would be one with a charitable twist! The group of merry men and women journeyed to pubs in Woodford, Duniry, Tynagh, Portumna and Abbey, ultimately raising €5,401.88 in support of Galway Hospice services.
Sincere thanks to everyone who participated in the event and helped make it such a success.
Thank you to Caroline Madden of Gordon's Bar Tynagh who hosted the event and to Noel Gardiner who provided transport on the day.  Thank you to the participating pubs – Harney's, The Crosscut, McDonagh's; Curley's; Caislean; Cornerstone; Elsies; Holahan's and The Hill Bar. Sincere thanks to Declan Walsh and all the staff in Walsh's Bar and Restaurant for sponsoring the group's delicious and much needed food! Thank you to the businesses that sponsored prizes – Galway Greyhound Stadium, O'Meara's Supervalu, Shane Broderick Hurleys; Michael Glynn PVC ADL Ltd; John-Patrick's Loughrea; Lakelands Laundrette; Moloney's Post Office; Holahan's Shop; O'Donnel's Post Office; Harney's Spar Tynagh and Katherine Quinn in Q&R Stores Woodford. Finally, thank you to the Galway Senior Hurling Team and to the Glynn and Dervan families, all of whom donated prizes.
Pictured at Galway Hospice presenting the proceeds raised are:
Back row left to right: David (Ozzy) Bruder, Liam Gardiner, David Dervan, Gavin Hoban, Seamus Jones and Darragh Hoban.
From row left to right: Karen Dervan, Dean Cormican, Jemma Starr, Regina Glynn and Michael Craig (Galway Hospice).
Well done everyone! Until next year!