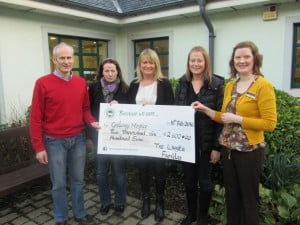 Many thanks to the Whyte family who recently donated €2,600 to Galway Hospice in memory of their late mother Marian Whyte RIP.
Pictured are (l-r): Paul Whyte, Breda Salmon, Grace McDonnell, Irene Whyte, and Orla Feeney (Galway Hospice).
Each year Galway Hospice must raise in excess of €1.8 million to ensure the continuing provision of Hospice Home Care, Day Care and Bereavement Support services to the people of Galway city and county, as well as to those residing on the adjoining islands.  Demand for our services continues to increase, and in order to meet this demand, we have recently opened six additional single inpatient rooms at the hospice.  The cost of this expansion was funded entirely from voluntary contributions.
Our sincere thanks to the Whyte family for this donation, and to everyone that supports Galway Hospice and enables us to continue providing our services.