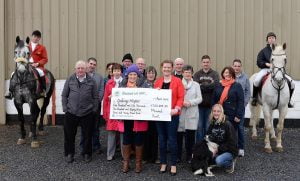 Once again the Monard Hunt, under the guidance of Peter Fox, raised a substantial amount of money for Galway Hospice this year, bringing their total amount raised for the Hospice since 1997 to a staggering €101,689.33!
The Monard Hunt takes place each year in Turloughmore Village, kicking off from Peter's Yard and proceeds from the event for the past 21 years has been kindly donated to Galway Hospice.
Pictured at the recent cheque presentation at Peter's Yard were (l-r): Peter Fox on "Sheriff', John McDonagh, Mike O'Neill, Rian Kenann, Kathleen Conlon, Kieran Lavin, Jenny Lavin, Joe Conlon, Helen McDonagh, Orla Feeney (Galway Hospice), Tom Joyce, Betty Joyce, David Fahy, Collette Lyons O'Connell, Ronan Joyce, Debra Prendergast on "Biscuit" and Kathalie Keaney with "Playboy" the dog.
Missing from photo: Mattie Glavin, Pat O'Loughlin, Bridget O'Loughlin and Bernard Whyte.
Photograph: Murtography.
A huge thank you to Peter Fox and everyone involved in the Monard Hunt each year. Your generous support will help Galway Hospice to continue providing our fully-accredited specialist palliative care services to adults and children with cancer and other life-limiting illnesses throughout Galway city and county, and on the adjoining islands, as well as providing support to their families and carers. With the generous support from events like the Monard Hunt, we can continue to 'be there' for the people of Galway into the future. Thank you!