Life-long public servants, Anthony O'Connor and Pat O'Connell have served as Volunteer Drivers at Galway Hospice over the past decade.
The duo volunteer at the Hospice each Friday, supporting the vital services provided to patients. 
Originally from Tarbert in Co. Kerry, Anthony comes from a farming background and joined Galway Hospice as a volunteer in 2009, following his retirement from the Department of Agriculture. "You come out of that and think, 'What do I do now?' I went fishing for something to do!" 
Originally from Oughterard, Pat meanwhile has volunteered with Galway Hospice for 8 years. The Renmore resident joined the Hospice's team of Volunteer Drivers following his retirement from the Revenue Commissioners. "I wanted to give something back to the community, having been a public servant for 40 years," he explains.
There are over 100 volunteers actively involved in supporting the services of Galway Hospice, across all departments. "Everyone here is important, volunteers and staff. There's the utmost respect from all sides. There is a bit of banter and craic as well!" says Pat.
For the past six years, Pat and Anthony have worked together as Volunteer Drivers, each serving as driver or co-pilot on any given day. The partnership is vital, particularly given Galway's notorious traffic and parking woes.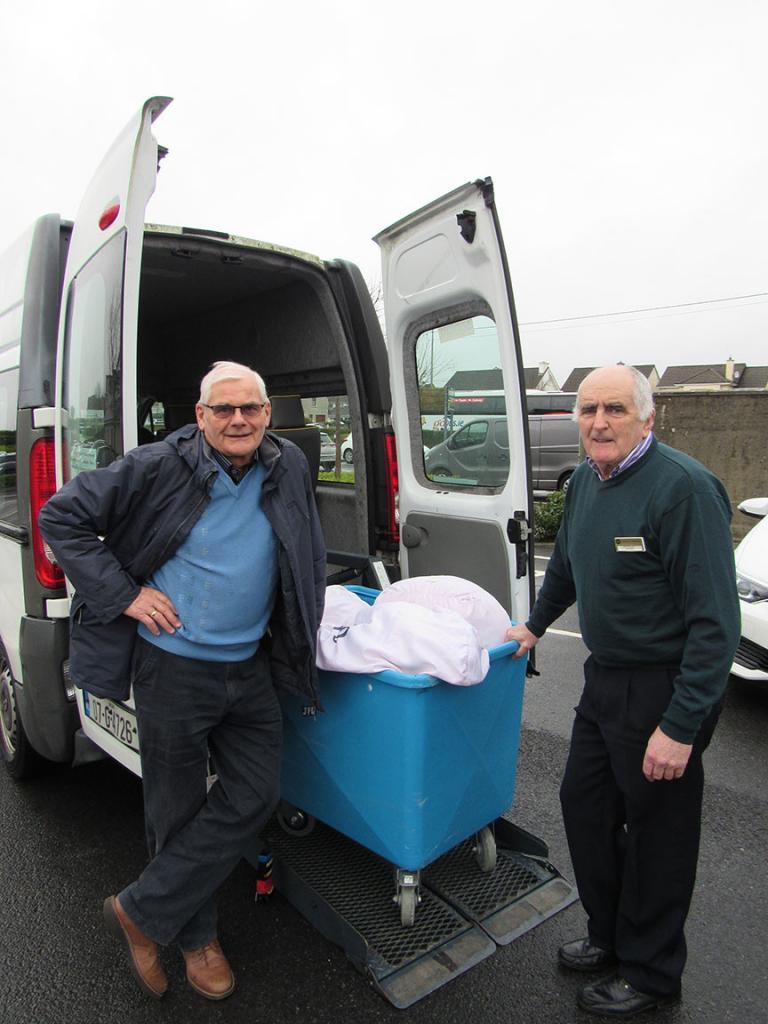 Each week, Pat and Anthony transport patients to hospital for appointments, scans and treatments, support the Inpatient Unit by transporting blood samples to the hospital for analysis and assist the maintenance, fundraising and other departments by transporting and collecting laundry and essential supplies. 
"Number one is the patient, so any journey that involves a patient or medicines or anything for the patient, that overrides everything else," says Pat. One of their weekly tasks is collecting newspapers for patients, "Even the newspapers are important, it's part of the comfort of their day," he explains.
The duo help with Hospice events throughout the year, from Sunflower Days to Coffee Mornings, the Galway Memorial Walk to Christmas. "You have to prepared to do different things. Officially I am a driver but we do anything," says Pat. "That's the job of a volunteer, if you volunteer, you are capable of doing anything," adds Anthony.
'We wanted to give something back'
'Anything' includes acting in Galway Hospice's very own Oscarz, which saw both Pat and Anthony take starring roles in the fundraiser which raised over €110,000 for hospice services. Pat played Mickey Gold in 'Rocky', while Anthony took on the role of Ned in 'Waking Ned'. "I didn't want to be learning lines, so they said we have a great part, you'll be lying in a bed!" laughs Anthony. 
Meanwhile Pat's highlight of his time as a Galway Hospice Volunteer has been undertaking a 1,400km cycle from Land's End to John O'Groats to raise funds for a new minibus for the Hospice. Having only taken up cycling in his 60s, Pat's 'Project Minibus' raised over €26,000 for the specially adapted minibus, which provides much-needed transport to patients affected by life-limiting illness.
"You take ownership and you take pride in what you're doing. There is as much satisfaction in doing a good deed as there is for the recipient. You don't do it for reward or 'you owe me one'. You do it out of the goodness of your heart and it's great to be able to do it," he says. 
Pat and Anthony encourage others to try volunteering, and regularly help new volunteers who start at the Hospice. As Pat explains, "It's a great feeling in the evening, when you sit into your car to go home. We are privileged to be able to volunteer."