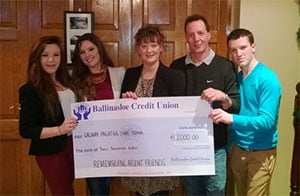 Many thanks to the group of people in Ballinasloe who recently organised a 5 mile walk and 'Shaving night' in aid of 5 local charities. Galway Hospice was one of the chosen charities, receiving a fantastic €2,000 from the event.
Pictured are (l-r): Kate Barker, Jodi Barker, Orla Feeney (Galway Hospice), Andy Barker and Jack Barker with the proceeds for Galway Hospice, in memory of Emily Barker, RIP.
Many thanks to the Barker family and to the organisers of the overall event in Ballinasloe who chose Galway Hospice to benefit from this event.  Emily Barker was Andy's wife, and mother to Kate, Jodi and Jack.  The Barker family took part in this event in memory of Emily, who availed of Hospice services.
Speaking at the cheque presentation, Andy Barker stated: ' The compassion and support that all the staff at the Hospice extended to my wife, myself and children and to all of our extended family will never be forgotten. The tremendous work the Galway Hospice does in making people's lives more comfortable is truly amazing and we will be forever grateful for their help, support and kindness'.