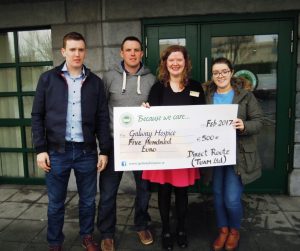 Direct Route (Tuam Ltd) recently made a donation to Galway Hospice, arising from the Health and Safety incentive scheme run on the M17/18 motorway project.  This is the second time that Galway Hospice has benefitted from the Direct Route fundraising incentive.
Pictured at the cheque presentation were (l-r): Ciaran Blake (Sisk), Padraig Scanlon (Sisk), Orla Feeney (Galway Hospice) and Nadine Monaghan (Direct Route).
Every donation makes a difference in supporting the work of Galway Hospice. Galway Hospice provides a wide range of fully-accredited specialist Palliative Care Services to adults & children with cancer and other life-limiting illnesses, as well as providing support to their families and carers. This donation from Direct Route will directly help us to continue providing these services across Galway city and county and the adjoining islands.
Galway Hospice has become ever more reliant on voluntary donations in the current economic environment. Although the HSE has increased its level of funding for Galway Hospice, we are still required to raise €1.8 million per annum to meet the cost of providing our specialist patient services.
It is projected that demand for specialist hospice inpatient care will double in the next ten years, and late last year, Galway City Councillors, by majority decision, approved an application by Galway Hospice for the re-zoning of seven acres of land adjoining Merlin Park Hospital. This will now enable Galway Hospice to progress to the design and planning stages for the development of a new hospice at that location, which will enable us to meet the projected substantial increase in demand for hospice inpatient care for the people of Galway city and county.
Thank you to everyone at Direct Route, Sisk and all concerned.